In the world of handmade teaware, wood-fired pieces tend to attract the most attention—and for good reason. Each piece is unique, and one can never be sure how different elements, compounds, and the atmosphere will affect the results until the kiln is opened days later. That being said, a skilled craftsman knows how to prepare his kiln to create dynamic colors, textures and shapes. He is both influencer and influenced, able to control the flames in his kiln yet never able fully decide the outcome.

For Kamakura-born ceramicist Shumpei Yamaki, wheel-throwing and wood-firing is a meditative practice that allows him to communicate through art. Each piece was fired for 100 hours to enhance his texture and shapes. We are pleased to share a few matcha bowls, or chawan, and teacups, yunomi, from his most recent firing in his personal anagama kiln in Iowa.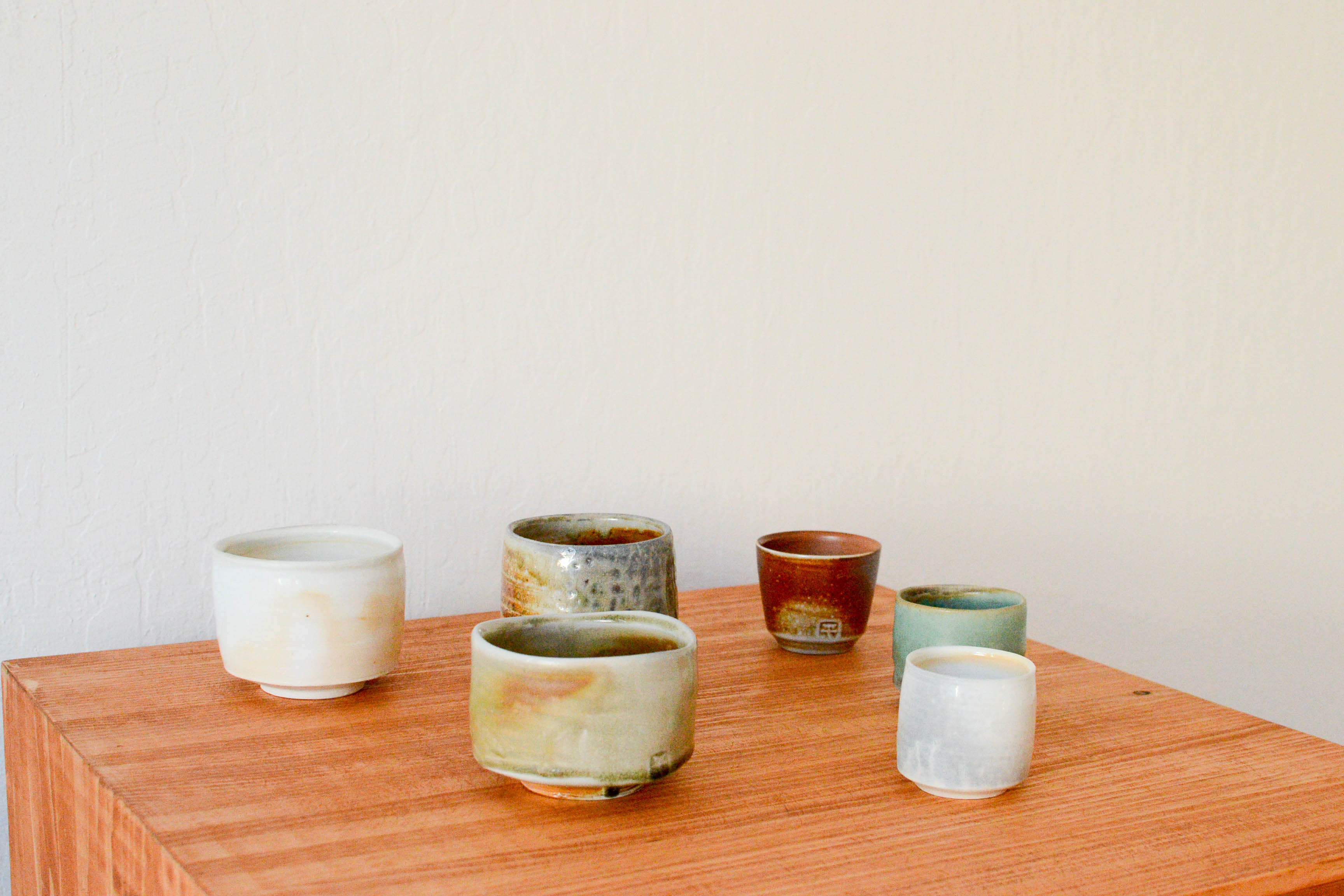 This collection is our first with the ceramicist, and we look forward to sharing more of his teaware in the future!
---
Matcha Whisks & Scoops
To pair with your chawan, we have matcha utensils by Nara-based craftsman Kubo Sabun. The Kubo family has been passing on the tradition of bamboo whisk-making since the Muromachi Period over 500 years ago. Each whisk is crafted from bamboo by hand using a series of splintering techniques with knives.

Historically, matcha whisks, or chasen, was a craft passed down from generation to generation exclusively via word-of-mouth. Few written records of early chasen making exist and whisks were crafted at night to ensure competing families did not divulge their secrets to one another. Meant to be disposable, matcha utensils are also the only item in Japanese tea ceremony that do not bear the artist's mark.

For those new to matcha making, each whisk and scoop comes with a usage and care guide. We also recorded several matcha preparation tips in this video!
Chasen, matcha whisk. Use in lieu of a frother to mix matcha vigorously with water and create foam on top. Chasen are always made from bamboo, which is flexible yet strong.
Chashaku, matcha scoop. Use 2-3 scoops and 50-75ml of water to prepare ceremonial matcha with froth.
If you are just getting started or are interested in gifting matcha to a loved one, we recommend our Matcha, Ikenoshiro for matcha lattes and Matcha, Mainoshiro for those who drink their tea ceremonial style and enjoy a fresh, fragrant profile.
---
Holiday Shipping & Winter Break
We suggest Standard shipping if ordering a holiday gift, or UPS 2nd Day Air after December 18th. We are seeing shipping delays of 1-3 days and anticipate that to increase through the rest of the month.

As well, our online shop will be closed December 26th until January 4th so we may rest and recharge. We look forward to sharing new tea and teaware with you in the new year!
"The first sip [of tea] is joy, the second is gladness, the third is serenity, the fourth is madness, the fifth is ecstasy"
—Jack Kerouac, The Dharma Bums